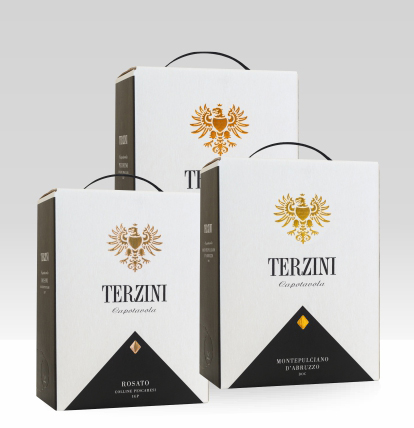 BAG IN BOX / Head of table
The bag-in-box line is the best container on the market today for everyday wines, allowing wine to be kept ready for use at all times, even for occasional and sporadic consumption.
Discover a way of drinking wine that is sustainable, convenient and practical without sacrificing quality.
Cantina Terzini offers a wide selection of wines from the Abruzzi region designed for everyday consumption to be enjoyed one glass at a time.
The Bag in Box is filled by the wine alone without taking in air and, thanks to a small tap, offers the possibility of tapping the wine directly into the glass or into another container as required.
This procedure allows the organoleptic qualities of the wine to be preserved for longer and considerably reduces the risk of oxidation.
Choose the type of wine and the format you prefer; choose, according to your needs, how much white and red wine your order will contain and have it conveniently delivered to your home in just a few clicks.